Boat Seat Cover
Way back many, many moons ago in a time long since past, I was helping a neighbor put up hay one summer. Not just a little hay mind you, but thousands of bales of hay. Literally folks. No fish story involved in this one, and we're not talking them little square idiot blocks weighing 60 - 80 pounds here either, we're talking 1,000 - 1,200 pound rolls of hay, by the thousands. Just the two of us! Cut, raked, rolled, and moved to the farm yard and stacked. Where we turned it all into that stuff you turn hay into over the winter months! Which is manure, for you city folks that don't know! (And, you guys all thought I was going to tell them it was cow-shit, didn't you?)
Now some of you are I'm sure wondering what haying has to do with anything fishing, and why I'd title a story about haying, "Boat Seat Cover," and believe me folks I'll get there, it's just goin' take a little time.....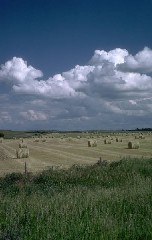 Steve (a.k.a. Rubberhead, Shitlink, and a few other choice terms by those of us that partied with him on a regular basis), had asked my help haying as he was pushed for time. He'd laid a bunch of hay down and the weather forecast had changed drastically, while he was mowing. He faced trying to rake it all and bale it, all by hisself, in not nearly enough time, before the rains were supposed to hit that weekend. It was not a purty picture folks let me tell you! It was the first year cutting had been allowed on CRP on the farm, and it was plenty thick stuff. Two passes with the rake was more than the baler could handle in any of the low spots, and all it could handle on the hilltops. The stuff he'd laid down was for the most part choice ground, and there was a pile of hay to rake and bale there.
I told Steve I could manage a little time off to assist him, and we did get the hay he had down all raked and rolled before the monsoon hit that weekend. After finishing up in what we considered near record time, we spent a few hours celebrating, over a cold case of Keystone Light, watching from the sofa in the shop as the first drops of rain started falling. (No the shop wasn't that plush, it was a rather old dingy sofa dropped in the shop for lack of time to make it to the trash pit and unload it one day, and it was found much more comfortable for beer-drinkin' and bull-shittin' sessions than feed pails and shop benches, from what I was told.)
Anyhow, back to watching the rain fall.... In the course thereof, having kicked backed a few Keystones, I sorta volunteered to help him put the rest of the hay up, not sure if it was the beer talking, the fact I like the guy, or the fact that I've always enjoyed going round and round in circles pulling a hay rake ('cause it looks like work and thus folks are less apt to bother you), but for whatever reason I volunteered, and then asked how many acres we had to put up. Steve casually replied, "900 acres!
I sorta looked over and asked casually "WHAT?" (As the calculator in my head was reeling at the number of bales we'd just put up on the 80 acres he had down.) He repeated it again without stuttering, then laughed and asked i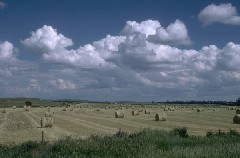 f I still wanted to be a part of all that. Not being one to shy away from a little challenge, I told him sure, I'd be there for him, that I had a little vacation time to burn anyhow, I needed to get the hell out of the office for a little R&R, and I couldn't think of anything better to do with my time. He inquired as to what I needed for wages, I told him to keep beer in the shop fridge, and I'd be okay with that. (Which, at first he thought that was a pretty good deal folks, he was even nice enough to buy Budweiser for me, but little did he know how much beer your webmaster can consume!!! And, shortly we were back to the Keystone Light since it was at that time half the price of Bud.)
Upon agreeing to it all, I told him however, that in about 2 weeks I was fishing the ND Governor's Cup, and hay or no hay, I was fishing that week! That he might just as well forget haying that week anyhow, because 1.) I wasn't going to be there to rake and, 2.) If I was tournament fishing that meant it was going to rain all week any how. So he might as well go to Bismarck and chase girls or something.
Steve's Mom was good enough to keep us in groceries. Call requesting she bring us out a bit of lunch one morning, so we didn't have to stop and fix it, ('cause everything was going really sweet), resulted in a case of pop, 4 boxes of potato chips, 6 jars of homemade pickles, and two bread bags full of ham sandwiches on homemade buns. She left us with instructions to let her know when that ran out too! At which, we both told her we thought it should get us through the rest of the hay season.
Steve and I visited off and on about the fishing tournament a few more times before I left for the cup that week, he was always interested in the war stories I offered of tournaments past, and upon my return, Steve had to hear all about the Tournament. After the first night of beer drinking and tournament story telling, he commented that he'd love to fish a tournament, at least once in his life, and he told me if I ever needed a partner to let him know.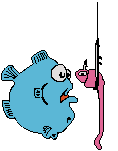 Problem there is, I'd never seen Steve on the water; seen him at the lake once or twice, mostly in the dark, standing around a campfire, consuming large quantities of beer, chewin' Copenhagen, talking smart, and having a good time, but never with a fishing rod in hand. I wasn't sure he even knew what a fish was for that matter! I laughed and asked if he even owned a fishing rod, and tackle box. To which he replied, "Sure!", and he produced a Zebco 33, on a Fiberglass Rod, that appeared as old as me, and thus of vintage about 10 years before his time! The tackle box likewise, was likely one of the first ever made in plastic. The contents therein were were pretty rusty, and with possible exception of a couple of very large red and white bobbers, the whole of which could have been contained easily, in a shirt pocket. It didn't look promising as far as a tournament victory, but knowing Steve it promised to be fun anyhow.
As luck would have it I was in Bismarck a few days later, and stopped at Dakota Tackle. As I was checking out, I found an application for the "Mott Fall Walleye Classic" fishing tournament. I looked it over, found it was a one day tournament and the entry fees were plenty reasonable. It was also late enough in the year that we should be done haying, so I grabbed an Ap and took it along home with me. That evening I asked Steve if he was serious about fishing a tournament, and explained the program on the one I had found. He assured me he was, so we filled out the ap and sent it and the entry fees in, receiving confirmation we were in, a few short days later.
We made hay for much of July and August, and straw bales to boot. Steve would mow a day or so, I'd come out and rake a couple of evenings and then take a day or two off along with the weekend, and catch up raking while he baled. Everything went great and in two months time the two of us had put up over 3,600 bales of hay and another 2,000 bales of straw. And, had most of it stacked in the yard, with the assistance of a neighbor or two that owned stack movers, and that was against all the adversity mother nature could offer. (We even stopped haying to run from a small tornado one afternoon folks!)
I mentioned Steve and I were getting ready to go fish the tournament in the local bar one night, and the suggestion of such received much laughter from a few of the hometown folks that knew Steve as well. They asked if I was aware of Steve's fishing name, which I informed them I was not. They told me that whilst on fishing trip with one of those fellows over there rolling in the floor of the bar, he had been dubbed "Boat Seat Cover!" Cause and reason behind that name was supposedly, that all he was good for that day was covering up the boat seat, and drinking beer.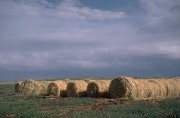 Tournament time rolled around before we knew it, we stacked hay 'til hell wouldn't have it that week, and headed off for the lake Friday morning leaving a few bales to finish upon our return. We of course had to stop at the local tavern for trip refreshments on our way out of town, and upon loading the cooler found the cold refreshments looking entirely to tempting for that time of the morning. We arrived Beulah Bay, a good hour's drive away, around 9:30 - 10:00 a.m. (after stopping in Pick City to pick up bait and the local fishing report), dropped the boat in, and proceeded to explore the lake, having never fished that portion of it before.
The day was pretty uneventful, and we didn't find much for a bite. We did however enjoy the trip refreshments thoroughly, and finally gave up and ran to town to check into our motel room, before returning for the rules meeting. There was of course more beer to be had at the rules meeting, along with much Chili to consume for supper.
Now I should tell you folks that as a rule, chili feeds in these parts scare me to death, given some folk's perceptions of the dish. But, this was actually fantastic chili prepared by a couple of world class chili cooks, whom I just happened to know, having judged the state chili cook-off a few years. (No fish story there either folks, the head cook that night holds the ND record for most trips to the world cook-off, he'd won the state cook-off 3 times.)
After the rules meeting and a few more beers with the cooks, and other competitors, we again headed to town, where unfortunately we concluded it was a wee bit early to turn in, and therefore decided to check out the local night life. We hadn't enjoyed more than a drink or two, when folks we knew started turning up, first one, then three, then five. All of them being generous with drinks, since we were guests in their hometown for a change, and all of them offering info on the local bite. Next thing we knew it was closing time, which got on with being real ugly because our bodies were set for closing at 1 a.m. Central Time, and it was 1:00 a.m. Mountain Time over there! Thus we had exceeded our limits of acceptable toleration of alcohol by at least an hour, if one throws out all consideration for the fact that we started at 8 a.m. Central Time the morning before. (Suffice to say we were not feeling any pain folks!...YET!)
We found the motel, and our room, (fortunately it was only a block away), falling into bed about 2:15 a.m. CST. Which that did not make the 6:00 a.m. wake up call MST any fun what so ever. Fortunately having experienced that CST/MST conversion dilemma in an inebriated state before, I had arranged wake-up call upon check-in, explaining what time the tournament started, and stating that we needed to wake up an hour and a half before that. We got showered and dressed, then headed downtown for breakfast, which we both had a real tough time swallowing, but both figured we better or it was going to be a very long day.
We made it to the lake in fine shape, checked the boat in, threw in all the goodies that were stored in the back of the pickup (with exception of our overnight bags, having checked out before breakfast), and dropped her in the lake. It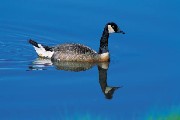 was a beautiful North Dakota fall morning, (for goose hunting!) fishing however, was a different story. The weather had cooled off a bit over night, and we were looking at 33 degree temps and a 10 mph breeze out of the Southwest, as we awaited take off.
Finally the flag dropped and we headed out across the lake, about 200 yards into which it started to rain. Which a hundred yards later turned to snow! I've seen a lot of adverse weather in tournaments, but this was the first time, I'd ever been snowed on. Whilst in my boat anyhow! We both being country boys however, and knowing ND weather, had packed the coverhauls so it was tolerable. We wasn't going to let a little thing like an inch or so of snow slow us down, no-sirree. (Not to mention all that fresh air even sorta helped the throbbing in our heads. A little teency bit, anyhow.....)
Crossing the lake was an exercise in tenacity, as the 2 - 3 foot swells made the ride a real challenge on our less than settled breakfast! It was pretty much a toss up as to who was going to be hanging over the side of the boat chumming for Carp first, let me tell you! The other side of the lake arrived in time however and we both survived, although it was not found nearly soon enough for comfort's sake. I went into a search pattern and found a few fish, at which my partner questioned what we were going to use for tackle. I suggested he dig the crank-bait pack out of the tackle bag, and we'd troll cranks, given what I was seeing on the fish finder. He looked around for the tackle bag, and asked again what we were going to use for tackle, as it weren't back there folks! It was underneath the overnight bags in the back of the pick-up, at the marina, on the other side of the lake.
I assessed that situation quite rapidly, Steve suggesting we run back across the lake, to get the Tackle Bag out of the pickup, at the marina, and I told him that idea only presented 2 minor problems. 1.) Neither of us would survive the ride across the lake again, (twice), without chumming and, 2.) given the weather, it had taken us 20 minutes to cross the lake, meaning if we ran back and came back across, we were out 1 full hour out of 8 hours fishing time. I therefore suggested we try and fish with what we had aboard, having taken store of the 3 - 4 tackle packs I typically kept on the boat at all times.
The day was pretty uneventful, it took most of the morning to get over the fun of the day previous, by which time it started warming up, and I might add it succeeded quite well at that. By 1:00 p.m. we were in t-shirts, and sunburned big time by the end of the day! The only walleye we boated was all of maybe 6 inches long, however we did find the perfect pattern for catching skip-jack (a.k.a. Goldeye, herring, garbage fish, and a few other choice terms I won't repeat here.)
My partner who doesn't fish much was having a blast however, and since I simply enjoy catching fish, thoughts of the tournament and weigh-in were limited strictly to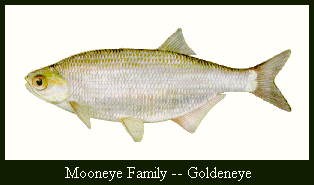 getting back on time so they didn't think we had fallen overboard chumming that morning. I also contemplated taking a live-well full of these silvery swimmin' critters back with us for weigh-in, but couldn't talk my partner into it.
For all their short comings, Skip-jack are fantastic fighters and they were absolutely nuts that day, you'd bait up, drop your line over, and before it reached bottom, you'd have another one on, and that went on for hours once we got into that pattern. It was truly a kick in the shorts; as much fun as you could ever wish to have on the water, unless you wanted to eat fish, (which they aren't real good for), or unless you are trying to win a walleye tournament. By that time however, we were out of the "Win" mode, and we still didn't care much about eating anything, so we were just having fun! Honestly folks it took 2 days to wipe the smile off Steve's face from catching all those worthless, good for nothing fish. And, it took about that long to wipe the smile off mine, just knowing that he'd had that much fun.
We did it all over again the following year, the haying routine and the fall fishing tournament. Haying went about as well as it had the year before, although it was the second dry year, and all the old dead material had been cleaned up in the CRP fields the year before. We wound up with only 2300 - 2400 bales the second year out. Of course it didn't take us nearly as long to put them together that year, because there was a third less hay, and because we were getting well used to working as a team and knowing what the other was thinking.
Come tournament time, things shaped up for us too; we'd learned our lesson on the enjoyment of trip refreshments the previous year, and although we enjoyed them, it was in moderation! Likewise we did not seek closing time at the local saloon; we were in bed and sound asleep by 10 p.m. Central Time. The 06:00 Mountain Time, wake-up call was far more appreciated the next morning, the eggs and bacon went down better, and we managed to get the tackle bag in the Boat that year too! The weather was still typical tournament weather however, and although it didn't snow, we couldn't have hayed that weekend if we wanted too. It had started raining Friday evening late, cutting our pre-fishing short, and it rained the remainder of the entire weekend.
Come tournament time, we headed west to a little bay where we'd found a few fish the day before pre-fishing. It's a big lake, not many fishermen in that tournament, the weather was ugly enough to keep the weekend warriors home, and we had the bay all to ourselves. Considering the change in weather overnight, I felt a jig presentation might work a little better on the hump where we'd found fish. I pulled up and told Steve to drop the anchor over. He did! Unfortunately it weren't attached to the rope! The knot had loosened somehow, and in his haste to get fishing he hadn't noticed it, as he swung the anchor over the side it sorta came all the way untied, and went straight to the bottom.
We dug the spare mushroom anchor I kept for the stern on real windy days out and tied it on. He apologized repeatedly, I advised I'd found the anchor fishing the river one night anyhow, it wasn't like I was out anything except for the Gold paint job applied to antagonize the in-laws when comments about the new boat started to fly. (Given them "Boy it must be nice comments, I sorta told them all, "Yep...it sure is nice! It's so nice in fact, that it even came with a gold anchor!)
Unfortunately the fish we anchored over, were again skip-jack, and since we were serious about the tournament this year, we elected to abandon them shortly after landing the third one. We tied on spinners and bottom bouncers and made our way around the nearby island, and shoreline to the point of the bay a few times, picking up one keeper and a couple of small ones. From there we moved out to the main lake body and after bombing on spinners, tied on cranks to pursue a deeper presentation and cover more water.
Not having any luck on the south side of the lake, we elected to move across the lake to the north side again. We trolled the shoreline coming to a rather large bay and discovered a ton of fish stacked on the deep points therein. I managed one keeper, after a pass or two on a crank, and Steve suggested going back to the spinners. I advised that might work, except at depths of 30 feet and more it was going to take a pretty hefty chunk of lead to get the bait down. Before he had time to give up on the idea, I told him to look beside him in the rod locker and he should find what he needed. He tied on a 2 ounce bottom bouncer and Chartreuse spinner, and dropped it over the side.
After a few passes he let out a whoop that shook the dust off the trees for half a mile. (Figuratively speaking of course folks! Remember, it was raining since the night before.) He yelled, that he didn't know what it was, but it was BIG!
I turned the boat away from shore, and got the other lines out of the way, all the time watching as Steve turned less joyous and more and more concerned. I asked where the smile had gone, and he started muttering about having used my rods all day long with the super-lines on, and now having just gone back to the rod he had borrowed to fish with and hooking this monstrous fish, he had no clue what kind of line it had on it, or how old it was. I reassured him telling him to loosen the drag a little and take his time, that he'd be okay.
Steve still wasn't sure about what he had on, but watching the fish run there was no doubt in my mind it was a big walleye. I told Steve, I didn't want to rattle him or nothing, but that he might want to be real gentle, that he might have the big fish of the tourney on. He thanked me, rather sarcastically for applying the extra stress, in an already stressful situation, but I again reassured him he was doing okay. A few short minutes later, we netted the 5 3/4 pound walleye, without a hitch of any sort.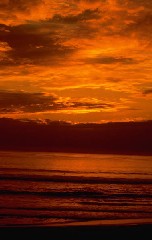 We dropped our lines back in and went to seek another like it, when I happened to look at my watch and noticed that we had 25 minutes left till weigh-in. At that discovery I let out a whoop that shook the remaining dust from the trees, rain and all, then screamed a few expletives, and commenced to reeling lines in. My partner thought my line had come un-spooled momentarily, until I advised him it was a 20 minute ride back, (if we didn't have any trouble)! And, the rules stated that we had to be there on time, or his big fish didn't count. At which, he got a bit excited too. We got the rods in, grabbed a cold one, offered a quick toast to the big fish prize, and headed southeast as fast as the old boat and 60 hp Mariner would go, stopping once mid-lake to give Wally a fresh drink of lake water since the live-well was about dry, and grab ourselves another brew.
We arrived with 2 minutes to spare, and sure enough had the biggest walleye weighed thus far. The weight held up as everyone weighed in, and old "Boat Seat Cover" proudly picked up the cash prize for the biggest fish, grinning from ear to ear. The only smile any bigger that day was mine, when we arrived back at the local tavern, and he got to rub it in to the guys that had dubbed him with that tag, and I had to tell them all, "Yes sir, he certainly did! That fish paid us $250.00 boys. Why he's best damned tournament partner I ever had."